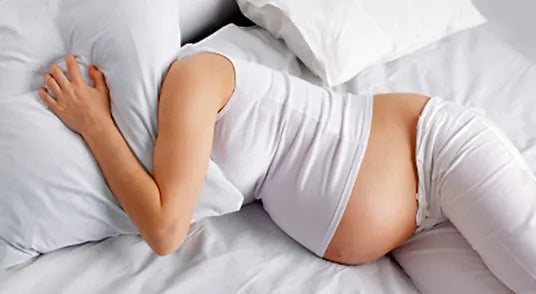 For most mums-to-be, pregnancy is a happy and exciting time. However, for some, pregnancy can be a source of stress and depression. And whilst we all know about the importance of physical health in pregnancy, we are less likely to consider the effects of emotional health.
It's very normal to experience stress and anxiety during pregnancy, and for many women these feelings will come and go. However, for around 15% of women, it can be more serious and potentially harmful.
Will stress harm my baby?
If you are pregnant and experiencing feelings of stress or anxiety, you will most likely go on to have a perfectly happy and healthy baby. However, there is some evidence to suggest that in a small number of cases stress in pregnancy can impact the baby's development. Whilst you mustn't feel guilty or be too hard on yourself, trying to overcome your stress or seeking help if needed will be very beneficial for both you and your baby.
Symptoms of stress
Symptoms of stress vary, but some of the most common are:
Difficulty sleeping
Loss of appetite
Headaches
An upset stomach
Low mood and low self esteem
Irritability
Smoking or drinking more
Racing thoughts and difficulty concentrating
Some women also experience feelings of depression in pregnancy.
How to manage stress:
Look after yourself
Take good care of your body, and your mental wellbeing will improve too. Eat healthy food, drink plenty of water, and take some gentle exercise.
Talk about it
Don't bottle things up. Talking about your feelings and concerns will help relieve some of your anxiety. Explain your feelings to your partner and midwife. Reach out to a friend, catch up with your mum or talk to other women on our forums. It is important to remember you are not alone, many women have gone through what you are experiencing and can offer support or an ear.
Get plenty of sleep and rest
Pregnancy can be tiring but be kind to yourself and permit yourself time to rest. It is so important to put your feet up now and again without feeling guilty. Treat yourself to a magazine, pedicure, watch a movie or take a long bath, and get some 'me time' back. If you already have children this, of course, can be tricky! Don't be scared to ask for help and accept it if its offered. You deserve it.
Assess your lifestyle
Take a look at your life objectively - are there aspects to your life you are finding difficult now you are pregnant? Do you have an uncomfortable commute to work? Do you have a busy social life, or responsibilities you are finding hard to maintain? Identifying areas that are causing you stress and attempting to create some balance may help your overall wellbeing. You could consider keeping a stress diary, to help you identify when you are at your most anxious.
Financial worries
Times are difficult financially for many people at the moment, but with a baby on the way it can create considerable stress. Don't worry - a baby doesn't actually need too much in the early stages. Read some advice on what you really need to buy your baby. Be aware of your entitlements regarding maternity leave and pay, and you may also be eligible for other supplementary benefits too.
If you have housing concerns, support may be available to you. Some areas have housing support services for young parents. Talk to your midwife and she may be able to refer you for help.
Read up on budgeting and how to manage debt. Taking control of any money worries you have can ease a lot of stress.
Prepare for childbirth
If the prospect of giving birth is worrying you, take control of your fear, and take some time to become informed about giving birth. Understand the process, pain relief options, the stages of labour and most importantly, your choices. Speak to your midwife about your worries and remember what you are feeling is likely to be completely normal. Fear of birth can range from having understandable fears, right through to being very fearful, and even developing Tokophobia.
Experiencing domestic abuse?
If you are pregnant and find yourself the victim of domestic abuse, this will obviously be the cause of extreme stress and anxiety. Seek help, don't be afraid to speak up. There is help available, you are not alone, and domestic abuse is always completely unacceptable.
What if your stress continues?
If you feel you are unable to cope or manage your stress then you should consult your doctor or midwife. Some women experience depression in pregnancy, and this can be treated.
For more information visit: www.beyondblue.org.au
---