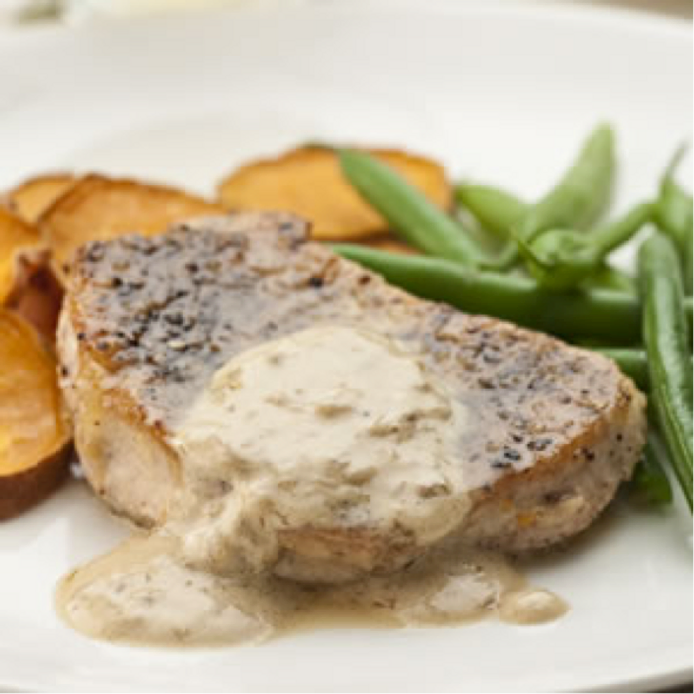 What you need:
1 teaspoon coarsely ground black pepper
1/2 teaspoon salt, divided
4 boneless pork chops, 2cm thick, trimmed
3 tablespoons all-purpose flour
2 tablespoons extra-virgin olive oil
1 medium shallot, minced
1/2 cup brandy
1/4 cup reduced-fat sour cream
How to:
Combine pepper and 1/4 teaspoon salt in a small bowl. Pat the mixture onto both sides of each pork chop.
Place flour in a shallow dish; dredge each chop in the flour, shaking off any excess.
Heat oil in a large pan over a medium-high heat. Add the chops, reduce heat to medium and cook until browned and just cooked through, 2 to 3 minutes per side. Transfer to a plate and tent with foil to keep warm.
Reduce heat to medium-low. Add shallots to the pan and cook, stirring, until softened, for about 1 minute.
Add brandy and cook, stirring and scraping up any browned bits, until most of the liquid has evaporated, around 1 to 2 minutes.
Remove from the heat and stir in sour cream and the remaining salt. Serve the pork chops with the sauce.
Pork Chops au Poivre
EatingWell Magazine. (2009, January). Pork Chops au Poivre. Retrieved from http://www.eatingwell.com/recipe/249807/pork-chops-au-poivre/
---