Lemon Myrtle No Bake Cheesecake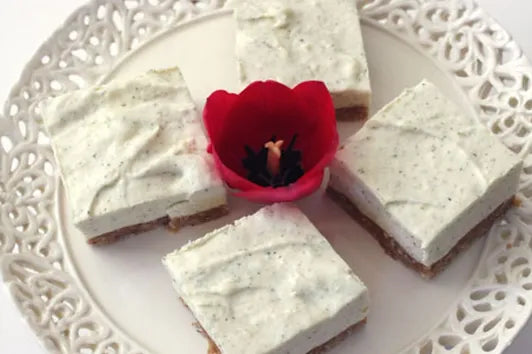 Ingredients
Base:
10 digestive biscuits
1/2 cup macadamias
100g melted butter
Filling:
1.5 sheets of gelatin (titanium strength)
125g/4.4ozs butter at room temperature
250g/9ozs cream cheese at room temperature
2 teaspoons ground lemon myrtle
3/4 cup caster sugar
How to:
Line a square cake tin if you are making a slice or a round springform tin with baking paper on the base and sides. In a food processor, grind biscuits and macadamia nuts until finely ground as possible. Tip into a medium sized bowl and add melted butter and stir to combine.
Press onto the base of the lined tin and refrigerate until needed.
In a bowl of cold water, soften gelatin until pliable. Drain the cold water and add 1/4 cup of hot water and stir to combine and cool. Using an electric mixer, cream butter and sugar until fluffy and then add cream cheese and lemon myrtle and beat again.
Add gelatin and beat until fluffy and fully incorporated. Take tin out of fridge and working quickly using a spatula, spoon the filling on top of the crumbs and smooth surface as much as possible. Refrigerate for several hours until set.
Recipe from www.notquitenigella.com
---