Beef and Vegetable Stir-Fry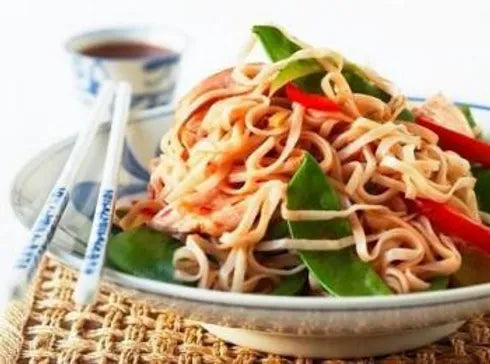 Ingredients
250g dried thin egg noodles
spray oil, for cooking
500g beef fillet, cut into thin strips
2 tsp chopped ginger
1 clove garlic, crushed
1 medium (150g) onion, chopped
1 medium (200g) red capsicum, thinly sliced
1 medium (200g) green capsicum, thinly sliced
250g snow peas, trimmed
2 tbsps sweet chilli sauce
1 tbsp oyster sauce
¼ cup (60mL) plum sauce
⅓ cup (80mL) beef stock
Instructions
Cook noodles according to packet directions; drain well; set aside and keep warm.
Heat a non-stick wok or frying pan over high heat; spray with oil. Cook beef strips in 2 batches for 2-3 minutes or until browned; set aside and keep warm.
Reheat wok; add ginger, garlic and onion; stir fry 2 minutes or until onion is soft; add capsicums and snow peas; stir fry 3 minutes or until just tender. Add in plum sauce and beef stock. Add beef back in to warm.
Source: https://www.nestlemumandme.com.au/beef-and-vegetable-stir-fry
---