Vegetable, ham & noodle cups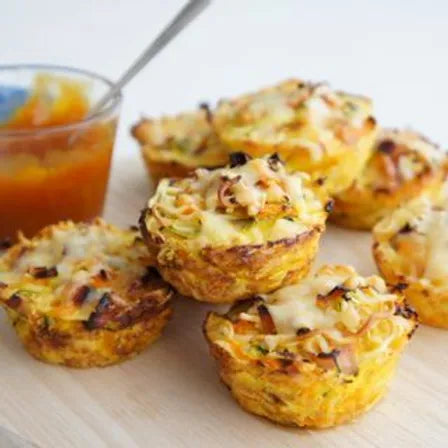 Ingredients
170 g Maggi 2 minute noodles chicken flavoured
3 cups mixed vegetables grated
2 eggs lightly beaten
1/2 cup light sour cream
1/2 cup ham (deli) chopped
1/2 cup light tasty cheese
Method
Preheat oven to 180C. Lightly spray a tray of 6 x 1 cup muffin pans with olive oil.
Cook noodles as directed, reserving the flavour sachets. Drain then rinse under cold water. Place in a bowl.
Add the reserved flavour sachets, grated vegetables, egg, light sour cream and ham.
Spoon equal portions in muffin pans and top with cheese.
Bake for 30-35 minutes or until set.
Serve warm with vegetable sticks and tomato salsa.
Recipe source: https://www.bestrecipes.com.au/recipes/vegetable-ham-noodle-cups-recipe/s8dnf3ub?r=recipes/kidfriendlyrecipes&c=2of81x49/Kid%20friendly%20recipes
---