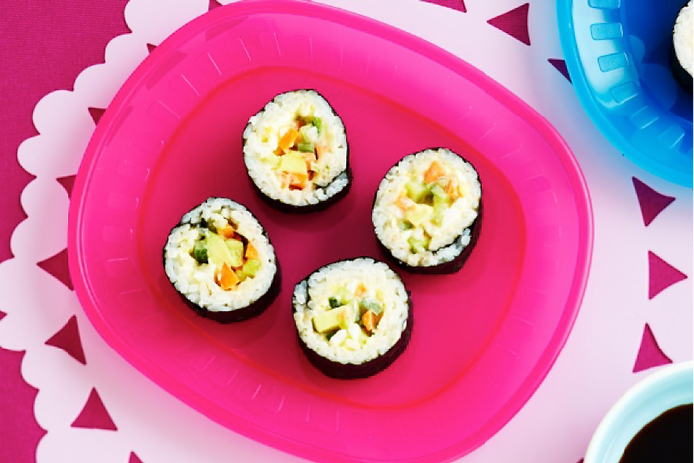 What you need:
Sushi basics
1 cup sushi rice
1 cup cold water
4 nori sheets
Filling
The best part about sushi is that you can fill it with whatever you like! We are making a traditional 'California Roll' today!
1/3 cup mayonnaise
2 hard boiled eggs
1 lebanese cucumber, finely chopped
1 tbsp hoisin sauce
½ ripe avocado, peeled and slice with the stone removed
How to:
Place the rice in a large sieve and rinse under cold water, drain.
Combine the rice and water in a covered saucepan over high heat and bring to the boil. Reduce heat to low and cook, for 12 minutes or until water has absorbed. Set aside to cool slightly.
Combine the mayonnaise and eggs in a bowl using a fork until smooth.
Combine the cucumber, carrot and hoisin sauce in a bowl.
Place 1 nori sheet, shiny-side down, on a sushi mat. Use wet hands to spread one-quarter of the rice over the nori sheet, leaving a 2cm border at 1 short end.
Spread one-quarter of the egg mixture over the rice. Top with one-quarter of the cucumber mixture. Top with avocado slices. Roll sushi mat up firmly to enclose the filling. Repeat to make 3 more rolls.
Cut the sushi rolls into 1.5cm slices and serve!
Sushi – California Rolls
Elliot, D. (2020). Sushi – California Rolls. Retrieved from https://www.taste.com.au/recipes/california-rolls/57b62429-93d7-41cb-8de6-12f78a77c591
---