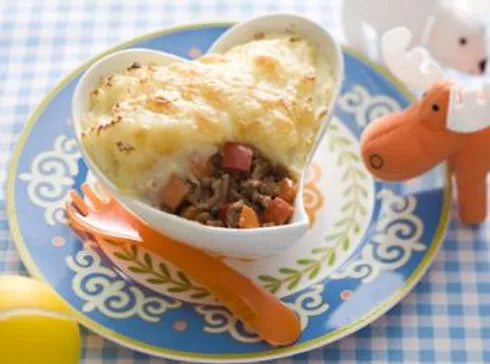 What You Need
700g potatoes, peeled and chopped
1 tbsp olive oil
1 medium (150g) onion, finely chopped
1 medium (120g) carrot, finely chopped
½ medium (100g) red capsicum, finely chopped
½ cup (60g) finely chopped celery
2 cloves garlic, crushed
500g lean beef mince
1 tbsp plain flour
2 tbsp tomato paste
2 tsp Maggi Original Seasoning
1 cup (250mL) chicken stock
30g butter
½ cup (125mL) low fat milk
1/3 cup (40g) grated low fat cheddar cheese
How To
Preheat oven to 200°C/180°C fan forced.
Place potatoes in a large saucepan; cover with salted water; bring to the boil over high heat; simmer until potatoes are tender, about 20 minutes.
Heat oil in a frying pan over medium high heat; add onion, carrot, capsicum and celery; cook, stirring occasionally, for 5 minutes or until tender. Add garlic and mince; cook, breaking up any lumps, until mince is golden. Add flour; cook 1 minute; add tomato paste, MAGGI Original Seasoning and chicken stock; cook 15 minutes or until sauce comes to the boil and thickens. Spoon into a greased, 8 cup (2L) capacity oven proof casserole dish.
Meanwhile, drain potatoes well; using a potato masher, mash until smooth; add butter and milk and mix until well combined. Spoon over mince; sprinkle with cheese; bake 30 minutes or until hot, bubbling and golden.
TIP: For younger babies, simply place in a food processor or blender, thinning down with boiled water for a thinner consistency or mash with a fork for older babies.
Source: https://www.nestlemumandme.com.au/recipe/shepherds-pie
---