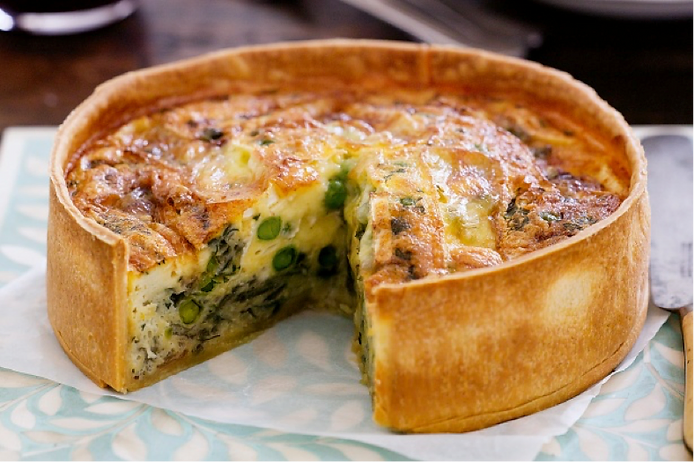 Ingredients
2 sheets frozen ready-rolled shortcrust pastry, partially thawed
25g butter
2 medium halved and thinly sliced red onions
2 crushed garlic cloves
1 cup frozen peas
2 tablespoons chopped fresh flat-leaf parsley leaves
125g thinly sliced brie cheese
8 eggs
1/2 cup cream
Method
Preheat oven to a moderate heat (180c) and grease a 20cm by 6cm deep springform pan and line with pastry.
Melt butter in a frying pan over a medium heat and cook onion and garlic together for around 10 minutes until onion is soft.
Add peas and parsley and season with salt and pepper.
Spoon half of the onion mixture into the pan and top with half the sliced brie, and repeat with remaining onion and brie.
Whisk eggs and cream together in a jug and pour over brie.
Bake for 50 minutes until quiche is just set, stand for 5 minutes before serving with a tossed salad.
Easy Pea-sy Quiche
Coverdale, K.. (2020). Pea and Brie Quiche. Retrieved from https://www.taste.com.au/recipes/pea-brie-quiche/5a8bda18-af5e-4b8d-8551-ee49ef712f0e
---