Creamy Chicken Pesto Pasta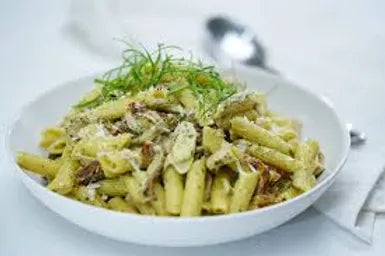 Ingredients
350g penne rigate

300ml light cream

1/2 cup basil pesto

3 green onions, sliced

1 1/2 cups skinless shredded

roast chicken

1/2 cup drained sun-dried tomatoes, thinly sliced

1/3 cup finely grated parmesan cheese

Thinly sliced green onions, to serve

Crusty bread, to serve


Method
Step 1
Cook pasta in a saucepan of boiling, salted water, following packet directions, until tender. Drain, reserving 1/4 cup liquid.
Step 2
Return pasta to pan over medium-low heat. Add reserved liquid, cream, pesto, onion, chicken and tomato. Stir to combine. Cook, stirring, for 1 to 2 minutes or until heated through.
Step 3
Divide between bowls. Top with parmesan and onion. Serve with bread.
Recipe from: https://www.taste.com.au/recipes/creamy-chicken-pesto-pasta/3c63eb90-a498-41cf-926c-a53282ad4654
---