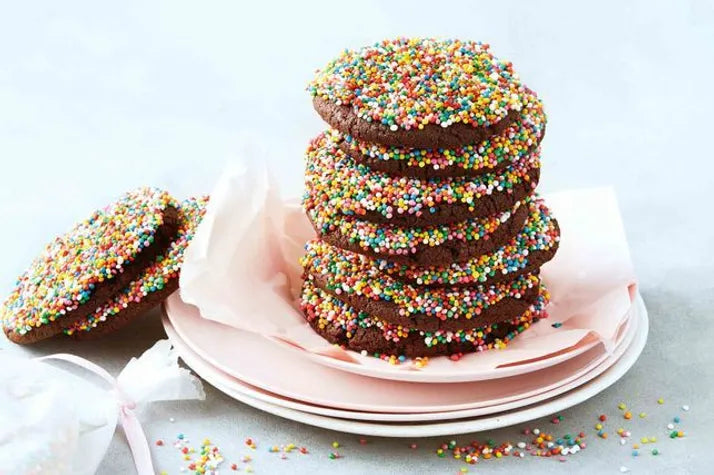 Ingredients
125g butter, softened
1 tsp vanilla extract
3/4 cup firmly packed brown sugar
200g dark chocolate, melted
1 egg
1 cup plain flour
1/3 cup cocoa powder
1/2 tsp bicarbonate of soda
1 cup 100's and 1000's
CHOC-TOP COATING
200g dark chocolate, chopped
2 tsp vegetable oil
Method
Using an electric mixer, beat butter, vanilla and sugar until pale and creamy. Beat in chocolate and egg until smooth.
Sift flour, cocoa and bicarbonate of soda over the butter mixture. Stir to form a soft dough. Cover. Refrigerate for 15 to 20 minutes or until mixture firms slightly.
Preheat oven to 180C/160C fan-forced. Line two baking trays with baking paper.
Roll rounded tablespoons of mixture into balls. Place 5cm apart on prepared trays. Flatten slightly. Bake for 12 minutes. Cool on trays for 5 minutes. Transfer to a wire rack to cool completely.
To make the choc-top coating. place all ingredients in a large microwave-safe bowl. Microwave, uncovered, on Medium (50%), stirring every 30 seconds with a metal spoon, for 1 to 2 minutes or until melted and smooth.
Place 100's and 1000's in a small bowl. Dip the top of each biscuit in choc-top coating, allowing excess to drain. Press into 100's and 1000's to coat. Return to wire rack. Stand cookies for 30 minutes or until set then serve.
Recipe Source: https://www.bestrecipes.com.au/recipes/choc-top-freckle-cookies-recipe/nvwjtqtr?r=budget&c=xuqxw1wy/Budget%20club&h=budget
---