Creamed Corn & Chicken Soup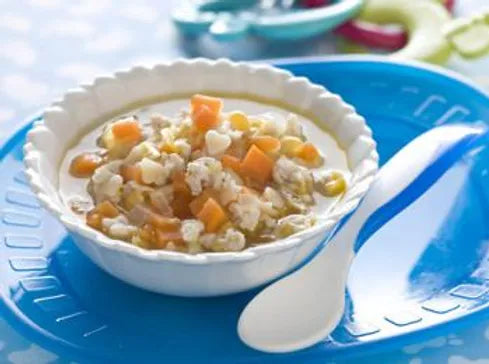 What You Need
Spray oil for cooking
150g chicken mince
1 tbsp finely chopped onion
1 small (70g) carrot, finely chopped
1 cup (250mL) salt reduced chicken stock
1 cup (250mL) water
125g can creamed corn
2 tbsp risoni or other tiny pasta
How To:
Heat a medium saucepan over medium heat; spray with oil; add mince and onion, cook until chicken is cooked through, about 5 minutes. Add carrot, chicken stock and water; bring to the boil, simmer 5 minutes or until carrot is tender; add corn and risoni, simmer a further 10 minutes or until tender.
TIP:
For younger babies, place in a food processor or blender, blend until required consistency, according to babies age.
This makes enough for 3 serves. Divide remaining serves in freezer proof containers and freeze for up to 1 month.
Source: https://www.nestlemumandme.com.au/recipe/creamed-corn-and-chicken-soup
---