MuM - Misunderstandings of Miscarriage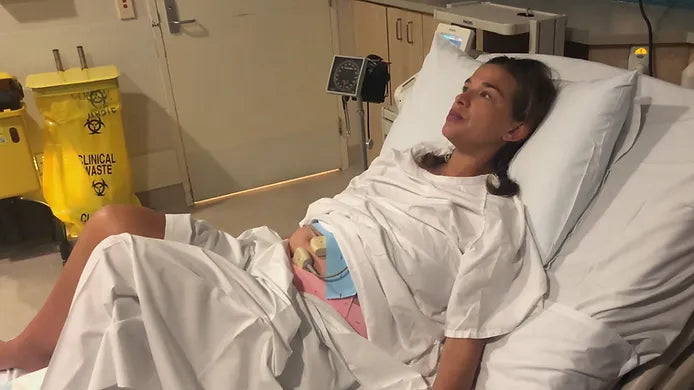 TRIGGER WARNING: This article contains information, discussions and video surrounding miscarriage and pregnancy loss.
To begin to try to understand miscarriage, is to hear it through the women who have sadly experienced it first-hand.
MuM sees Tahyna MacManus and her husband Tristan embark on an intimate journey to understand the physical, emotional, and psychological impacts of miscarriage – an experience which sadly occurs with 1 in 4 pregnancies.
"After experiencing my second miscarriage I was devastated, lost, and angry. Despite having an incredibly supportive network of family and friends around me, I felt terribly alone. By sharing what I once considered to be my greatest shame, I discovered a way to heal and honour my loss. I also realised I wasn't alone. There are so many resilient, courageous women going through the same thing, and I am privileged to be able to share their stories too, in the hope that women no longer feel the need to walk this path alone," MacManus said in a statement.
Along the way, MacManus connects with women across the country to shed light on the issue, from A-listers such as Claire Holt, Teresa Palmer and, Deborra-Lee Furness to everyday Australians. By sharing these stories, MuM aims to open up a conversation that normalises pregnancy loss and champions progress in areas of education and legislation.
MacManus also speaks to medical professionals including Dr Manny Mangat of IVF Australia.
"Miscarriage is an emotional rollercoaster, and even though to the clinician it may be perceived as a group of cells or an 8-week foetus, to that family it is their baby they've lost, and we must always remember that," she said.
Producer Kelly Tomasich says the film uncovers "an inspiring patchwork of real stories from real women."
"While there is no one size fits all approach to coping through loss, we hope that MuM will be available to anyone who has suffered a miscarriage or is looking to provide support. By providing access to a community of women from all walks of life, who are willing to share their own unique stories, we hope MuM will give a sense of normalcy, understanding, and acceptance to a subject that has been stigmatised for far too long."
The documentary highlights the important role of organisations such as The Pink Elephants Support Network in providing answers, resources and, support for women and families through their own experiences of pregnancy loss and miscarriage. It also emphasises the role of professionals in helping families to remove the guilt and shame often felt by women following a miscarriage.
Misunderstandings of Miscarriage is currently streaming on Stan.
Do you need support?
Pregnancy loss can be a very traumatic and isolating experience. If you or someone you know needs support, you are not alone. There are a number of support networks available.
The Pink Elephants Support Network
Miscarriage may be an individual journey, but no-one has to walk it alone. Pink Elephant's provides the latest resources, information and peer-support for anyone impacted by early pregnancy loss. Using evidence, empathy and connection, our unique digital-first approach offers a single source of specialist support, whenever and wherever it's needed — for anyone who has directly experienced it, for family and friends, corporate partners or healthcare professionals seeking proven ways to help. With so much of the current experience of miscarriage based on old science, outdated perceptions, social anxiety, and mistruths, PINK ELEPHANTS aims to right the story of early pregnancy loss by smashing the stigma and leading a new narrative, creating a healthier experience for all. Founded in Sydney, Australia, in 2016, Pink Elephants is a registered charity. For support, or to help right the story of early pregnancy loss by joining our #circleofsupport, please visit: www.pinkelephants.org.au
Bears of Hope
Let's walk this journey together. The Bears of Hope name is grounded in the truth that in this time of your devastating loss, there is an underlying strength that can never be taken away from you…. Hope. Our program signifies the hope we hold for you. HOPE that we can provide comfort during these darkest of times and HOPE that by offering ongoing support we can help heal your hearts.
Sands
Sands is a volunteer-based organisation providing individualised care from one bereaved parent to another, giving them support and hope for the future, following the death of a baby. We are a welcoming, inclusive and compassionate community where bereaved parents and families can honour and remember their baby and connect with others who've had similar experiences. Our aim is to meet bereaved parents wherever they are, physically or emotionally, when their pregnancy has ended, or their baby has died – whether recently or many years ago. We're in your local community, on the phone, or online.
Uber Barrens Club
1 in 7 couples experience infertility: but amongst them are those whose journey can be longer, more challenging, and more unsuccessful than others. We're not just infertile. We're really, really infertile. We're barren. The hidden community of women supporting each other through these journeys is full of incredible wit, humour, and kindness. And, amazing, heartbreaking, inspirational stories. Stories that don't get told, because everyone only wants to hear about the success stories. So I decided to change that. AMAZING PEOPLE, AMAZING STORIES. This book and blog aren't about my story. They're a tribute to the wonderful, witty, kick-ass, foul-mouthed, kind-hearted, brave and ballsy community of uber barrens (and the men who walk hand in hand by their side). If this sounds like you, please, please, do share your story too.
Beyond Blue
Beyond Blue is here to help people in Australia understand that these feelings can change. We want to equip them with the skills they need to look after their own mental health and wellbeing, and to create confidence in their ability to support those around them.
Sources: https://thelatch.com.au/misunderstandings-of-miscarriage/
https://tvblackbox.com.au/page/2020/09/01/first-look-new-documentary-misunderstandings-of-miscarriage-coming-to-stan/
https://www.mumdocumentary.com/resources-1
---