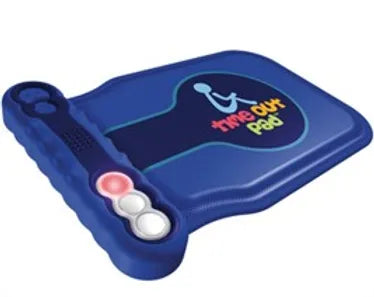 If products exist, its generally because there is a demand and/or market for them … so if you have purchased any of the below, we do not judge. And for those who purchased the Daddle .. please forward home videos to info@upupnaway.com.au.
Time Out Pad
Young children need to learn when their behaviour isn't acceptable. To do this, many parents use the time-out or naughty step technique, making the child sit quietly (usually on the bottom step of the stairs) for a few minutes to calm down and reflect on their actions. In practice it's not always easy. How do you time a time-out, when you've got so many things to do? And what happens if the child gets off the naughty step during the time-out? How does the child know when the time-out is finished? Time Out Pad ensures effective time-outs and encourages better child behaviour.
https://www.babycollection.co.uk/Grobag/Time-out-Pad/i/SATIMEOUT.htm
Placenta Teddy Bear
Tempted to do anything with your placenta after you had your baby? Make it it into a smoothie perhaps (yum!) bake yourself a placenta lasagne (yes, apparently people have done just that) or pop some placenta pills? Nope, nor us. But maybe you might like this? A placenta teddy. The teddy has been created with all those mums in mind who'd quite like some kind of memento from their placenta and who aren't mad on actually EATING it.
Its designer says his 'Twin Teddy Kit' has been made to celebrate 'the unity of the infant, the mother and the placenta' – and the kit itself contains an emulsifying mixture of tannin and egg yolk that you add to your dried placenta to make it pliable enough to fashion into a teddy shape.
https://www.madeformums.com/news/placenta-teddy-bear-aaahhh-or-eeeugh/
The Daddle
The Daddle from riding supply company Cashel is a soft Western style saddle that is made to strap on the backs of daddies so they can give their small children horsey-back rides in style. Daddle up, Daddies!
https://laughingsquid.com/the-daddle-a-western-style-saddle-to-strap-on-your-daddy/
Baby Wigs
BabyBangs claims on its website to be the first and only ready-to-wear "hairstyle headbands" ever made. "Our patent pending HAIR+band accessory combination allows baby girls (with little or no hair at all) the opportunity to have a beautifully realistic HAIR style in a SNAP!!" the description reads.
BabyBangs are hair and headband all in one. The "hair" is made from "silky strands of Monofiber Kanekalon," according to the website. They come "pre-customized & size appropriate, cut, styled and ready for immediate wear. The wispy hair strands have been arranged in the cutest most adorable elfish coiffure!" They cost $29.95 each.
https://abcnews.go.com/Lifestyle/baby-wigs-bald-babies/story?id=19629276
Mop Onesie
Robot vacuums and mops are all the rage right now. Everyone wants clean floors without lifting a finger, but not everyone wants to pay for it. Well, there is one autonomous vacuum/mop that we left out of our robotic vacuum roundup — so if you're not trying to fork over the hundreds of dollars for a real machine, you can just use a baby instead.
Teach your baby the virtues of hard work and responsibility at a young age with this onesie that doubles as a mop. The whole getup is actually super adorable, complete with a lion patch and, of course, matching yellow mop microfibers.
https://mashable.com/2017/12/12/gag-gift-baby-mop-onesie/
Playdoh Perfume
Demeter has bottled that fresh, just-out-of-the-can, eau de PLAY-DOH aroma as part of a year-long celebration of the beloved modeling compound's 50th birthday.
This spray bottle fragrance is meant for highly-creative people, who seek a whimsical scent reminiscent of their childhood. One of PLAY-DOH compound's most notable characteristics is its scent, said Leigh Anne Cappello, vice president of marketing for the PLAY-DOH brand. When you open a can of PLAY-DOH compound, you are instantly transported back to childhood. What better way to celebrate the 50th birthday than by bottling the scent for adults everywhere to enjoy as a reminder of their youth.
https://www.muaustralia.com/demeter-fragrance-library/play-doh-cologne-spray
Zaky Infant Pillow
Designed as a "bonding, therapeutic positioning pillow", the Zaky Pillow is meant to keep your baby comfortable and feel protected. The irony is that these creepy hands look more like your baby is being stolen away by monsters to a far away land .. and defies the general rule of not having accessories in the crib alongside your newborn.
https://thezaky.com/products/the-zaky-hug
Baby High Heels
Yes, time to start wearing heels is getting earlier and earlier.... now before your baby even learns to walk, she can be "heel-prepping" in her very own pair of baby high heels!
Are these not the most hilarious, or HEELARIOUS things ever! they are made by HEELARIOUS (awesome name!), and they make different style of high heels, cowgirl boots, that are the cutest, funniest things ever! They are totally soft and puffy and feel like poofy slippers...don't worry they don't have real heels, they are just "stuffed heels"!
http://kandeelandkandeeland.blogspot.com/2011/08/high-heels-for-babies.html
Baby Nappy Alarms
How do you know when your baby has dropped a nasty doo-doo in his drawls? Well, for one, you can probably smell it, am I right? I know I'm right. But I wish I was wrong. For you parents who want to know when the dirty deed has been done IMMEDIATELY and not after that stinky smell defiles your nostrils, there's the Baby Poop Alarm. The device attaches to the outside of the diaper and plays a sound/lights up when your sweet, precious angel busts out a big, stanky deuce! One question, though: why's it gotta be for babies only?
https://incrediblethings.com/kids/lolwut-baby-diaper-poop-alarm/
---