Valentine's Day Ideas For The Whole Family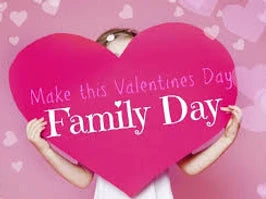 In just a few days, February 14th will turn on our calendars once again. In many parts of the world, this means it's time to think about celebrating Valentine's Day. Culture tells us that Valentine's Day is meant for romantic love, and certainly it is a nice day to take time to express your affection for that special someone. Our children, however, aren't interested in that aspect of this day, and this is the perfect time share some love within the family.
Here are four quick & easy ideas for your family to celebrate together.
Heart Fruit Salad
What is possibly the easiest way to 'Valentine up' your fruit salad? Use a small heart shaped cookie cutter to shape your melon (and any fruit you like, really). Delicious!
Check out this simple recipe here: https://www.courtneyssweets.com/valentines-day-fruit-salad/
LOVE Goggles
Kids love to dress up? Grab some pipe-cleaners (2 red, 2 black) and get bending! Super easy to construct, quick, and no mess! What's not to love?
Check out these simple instructions here: https://www.makeandtakes.com/pipe-cleaner-heart-shaped-love-goggles
Heart Shape Eggs in a Basket
We all know the classic 'egg in the toast' trick, why not make it a little more festive? Dig out your cookie cutter (or freestyle it, if you like) and continue as usual!
Check out this great recipe here: https://www.mommyhatescooking.com/heart-shaped-eggs-basket
Toilet Roll Heart Stamp
What a simple and lovely way to make your own unique stamp! Grab an empty toilet paper roll, bend in one side, and dip in red paint, voila! Heart shaped stamp ready for use on cards, wrapping paper, or just to make your own beautiful artwork.
Check out these simple instructions here: https://www.craftymorning.com/diy-heart-stamp-using-toilet-paper/
Have a Happy Valentine's Day whatever you decide to do!
---