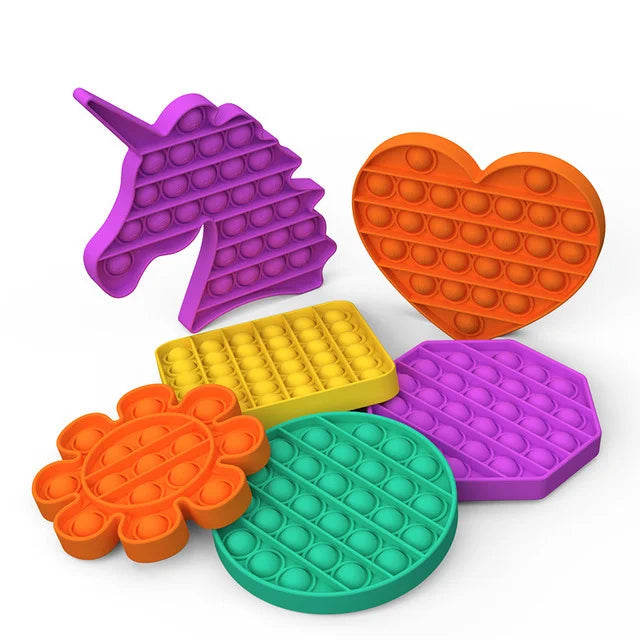 If you're a parent who remembers the Great Fidget Spinner Phase of 2017 (because who doesn't?) listen up: fidget toys have made a comeback, but they look a little different.
They no longer spin, for one thing. Instead, these silicone pads covered in bumps are almost like reusable bubble wrap – both in terms of how satisfying they are to use, and how annoying they are to hear being used.
Yes, these new fidget toys, Pop-its, have taken the playground by storm. And, like most things in the past year, we have TikTok to blame thank.
So, what do you actually do with a Pop-it? The answer is in the name! You simply pop each of the silicone bubbles – once they've all been popped, you flip the disc over and pop them from the other side. Yes, parents: the fun literally never ends.
But they aren't just for solo fun. The original Pop-It (because there have, of course, been many dupes made since they first shot to popularity) was designed by toymaker Giggle & Roar to be played as a 'take anywhere' game. The rules are simple: you can pop as many bubbles as you like in the same line, before it's your partner's turn to pop as many bubbles as they like in a line (it can't be the same line as yours). Repeat until there is just one bubble left – whoever has to pop the last bubble loses.
Much like the fidget spinners of 2017, Pop-Its are said to have soothing sensory benefits for kids (and adults), whether as an effect of autism or anxiety. While the jury is still out on the legitimate health benefits of fidget toys like the Pop-It, there is some evidence to suggest that fidgeting can be a calming ritual, an essential part of our thinking processes and even a good way to distract our brain from negative thoughts.
Whatever the science tells us, we can't deny that popping bubble wrap is inexplicably relaxing. We can certainly see the appeal of toys like the Pop-It.
Keen to invest in one of your own? They'll set you back around $7 to $10, but that's depending on whether you can find one – they're selling out like crazy. Thanks, TikTok.
Source: https://www.havenmagazine.com.au/having-a-moment-fidget-toys-are-back/?vgo_ee=hlLKr
---