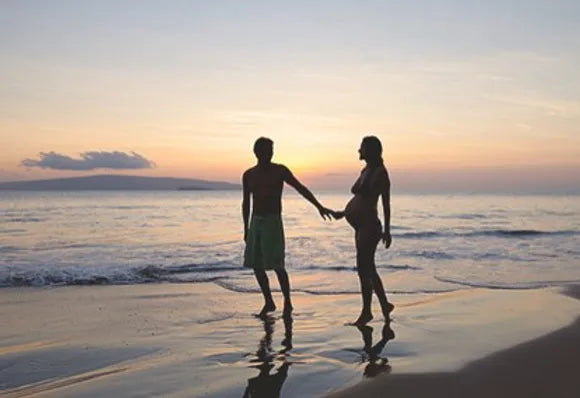 You have probably heard the term 'Babymoon' being thrown around a lot lately, as more and more couples choose to take 'one last hurrah' of a holiday before they welcome their little one into the world. But what exactly is a babymoon, and why should you think about going on one?
A babymoon is a holiday that couples takes before they become parents for the first time. Some couples take a babymoon before even becoming pregnant, and some wait close to the due date to take time to themselves (and maybe just really enjoy those sleep-filled nights). Some parents enjoy their babymoon so much they choose to have one before they welcome each child into their families, and may take their whole family along as well!
A lot of expectant women question whether it is safe to travel while they are pregnant. While the answer to this question is dependent on the unique details of your pregnancy, in the majority of cases, it is considered safe for you to travel whilst growing your little one, although you should definitely check with your doctor if you are planning any extended trips.
During the second trimester is commonly considered to be the easiest time for travelling, with morning sickness a (god willing!) thing of the past, and your energy levels higher now that your body is (mostly) used to growing a person, you will probably enjoy travelling at the time the most.
It is not uncommon for airlines restrict travel for pregnant women flying after the 36th week in the case of singular pregnancy, and the 32nd week for multiple pregnancy for flights of an extended nature, such as overseas. For domestic travel, the cut off dates are dependent on each airlines own discrepancy. Some airlines have more strict rules for travelling while pregnant, and a much lower cut off date for extended flights, so it is best to check your chosen airlines regulations before booking your tickets. When you plan to fly while pregnant you may need to provide a letter from your doctor to show your ability to safely travel.
Airline policies aren't the only consideration you should take while making travel plans. Extended travel can be even more uncomfortable than usual (shocking to think of the possibility) when you factor your ever-expanding belly into the picture. The same can be said for any supplementary travel you may do whilst away, such as car travel, trains, boats; any situation where you may be sitting in a single position for an extended period of time.
But what about the health risks? You may have heard that exposure to the natural atmospheric radiation of a flight cabin can increase the risk of you miscarrying, or cause an abnormality unborn babies. This is really only relevant in people who fly regularly, up to hundreds of times a year, and the risk for infrequent flyers is considered negligible, and only relevant during the time of the pregnancy. Flying during pregnancy can, however, slightly increase your risk of thrombosis (blood clots) and varicose veins. You can help to avoid this by wearing support stockings when you fly to keep your circulation flowing and relieve swollen veins.
A nice, relaxed, couple-only holiday will likely be a thing of the past once your family grows by one, so why not take one last romantic getaway before you are due? Spending time together as a couple can do wonders in helping you to stay bonded as you learn to embrace your new roles as parents.
With all this in mind, you should still consult your healthcare professional for their opinion on whether you should start packing those bags or not!
---