Fatherhood - Health & Fitness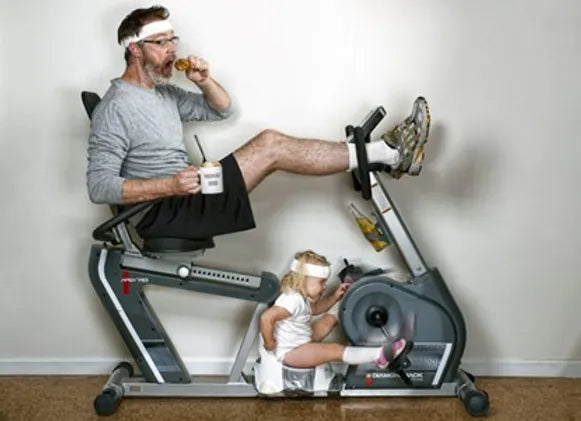 You have a brand new baby and everything has changed! At a time when you should be at your physical peak, you're spent. Enter stress, 3am feedings, crying, 6am feedings, fast food, caffeine, skipped breakfasts, rushed lunches, high fat dinners and working long hours, all which can lead to a drop in energy levels, poor nutrition and weight gain. One thing that was taken for granted for most of your life as a single man, or as a couple without children, is now gone - free time. Whatever you normally did for yourself pre-baby to keep healthy such as lifting weights, running, or being a bit of a master chef in the kitchen preparing healthy meals, can fall by the wayside. Or you may have fallen victim to a common fate of fatherhood "sympathy weight gain" – and have been giving into your partner's pregnancy cravings or maybe even eating for two yourself since before the birth of your child.
There is a lot of focus and resources for women on pregnancy and exercise and post-baby weight loss, however it is just as important as a father to rediscover how to take care of yourself after your child is born. Maintaining a good fitness regime and nutrition will enhance your sense of wellbeing and make it easier to get through the days when you are exhausted and sleep-deprived. Also the healthier you are the less susceptible you are catching sicknesses and other ailments that can make it harder to be a good father and take care of your new baby.
Later on when your baby has grown into an active child with never ending energy, or there may even be more children in your family, being fit means you'll have the energy to keep up with them and teach them sports and high energy games and activities.
Children develop their attitudes to exercise and nutrition from their parents at an early age, and by adopting healthy habits in your family you can instil the importance of an active lifestyle in your child.
Exercising with a new baby
Although your free time to spend at the gym may be limited these days, there is still time to fit in fitness, it is just in smaller intervals throughout the day. You may have to adjust your previous regime to accommodate, but find it only takes a minute or two here and there to crank out some push-ups, sit-ups, squats, or something else just to get the blood moving. Involving your partner as much as possible is a great time to spend time together and do something positive for yourselves.
Nutrition
We all know the importance of eating well, however as a new parent the focus can often be on caring for your child and your own nutrition can often take a back seat. Looking after yourself and eating a balanced diet will help your energy levels, keep you feeling and looking great, and better equip you to tackle the challenges of fatherhood.
---