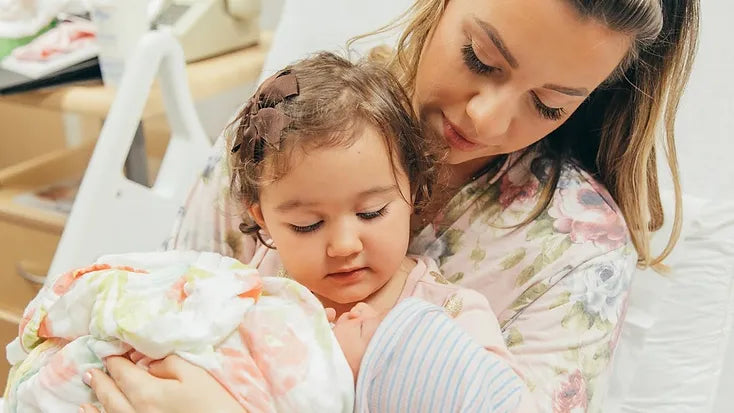 Another baby, maybe?
Your decision to have a baby will change the way your family feels and functions. An only child suddenly has a brother or sister to share the spotlight, the 'baby' of the family becomes the middle child suddenly all the pressure you might be feeling as a parent is doubled, or tripled, or quadrupled. It also doubles, triples and quadruples the amount of love in your family. The decision to have another baby has many factors. How will your child react? What kind of age gap is best for your child and future child's welfare? Can you afford the financial burden of another child? Is your relationship stable enough to cope with another baby as well as an older child? All of these questions, and more, will influence your decision.
The relationship that you share with the child(ren) you are lucky enough to already have as part of your family, will also change. They are about to become an older sibling. Studies of multiple children families show that having another baby in the house has a massive affect on the developing personality and character of the elder child. Before you even have the baby, your time spent in preparation can be a source of pre-birth jealousy for your child. Your child may harbor a predilection to resent the new baby from the get go.
Talking about having a baby with your existing child
Talking about having another baby with existing children can be daunting. Whether or not to involve your children in the process of trying to get pregnant is a decision that only you can make, and that can be entirely dependent on your situation. Should you talk to your children about it? Are your children old enough to understand what having another baby in the family means? Will their reaction to you trying to have another baby change the way you feel about it? Have your children been asking about a little brother or sister? These are all questions that the answers to which will shape your decision.
Existing Children
You can prepare your existing children for the arrival of your baby by talking about the ways that their life will be different, and what it means to be a big brother or sister. Talk about what will happen when the baby is born, how detailed you want to go with birds and bees might depend on your child's age and intellect. Older children will want to understand how a baby is in your tummy where as young children might just accept that it is and not worry too much. Look at pictures of your child as a baby and talk about what they were like, and will the new baby be like them. Talk about your own family growing up – were you or your partner a big/little brother/sister? Did you always wish you had a sibling?
It is a nice idea to let your child help in the preparation for the new baby. Decorating the nursery, talking about baby names, and choosing clothes/toys for the baby are all things you can do together with your child to include them. Let your child pick a present to give to the baby when they are born, and buy your child a present from the baby.
Bringing your new baby home
The reactions of existing children to a new baby are as different as the children themselves, and there is no way of knowing how your own situation will turn out until you have baby at home and are living your life. Your children might surprise you with the way they take their newfound siblinghood in stride, they may frustrate you with their refusal of the whole situation, or they may fall somewhere between the two.
You can help your child to bond positively with the new baby by including them wherever possible. Explain to your child what you are doing with the baby and talk about what you did with them when they were a baby. This will help your child to not feel like they are being left out, or the attention is being taken away from them. Let your child to help you with tasks, such as helping to give the baby a bath, or singing with the baby. Older children often see themselves as another parent in the family rather than competing for your attention as a child.
Children might want to be very involved with the baby, or might have little interest. Try not to force a relationship as it might make your child feel pressured and resent the baby. Talk to your child about how they are feeling about being a big brother/sister, what they like, what they don't like, what would make them like it better.
Try to spend quality time with just you and your child, and continue any special things you do together.
Half-siblings and new baby
Bringing a new baby into a stepfamily can be an emotionally trying time for both adults and existing children. It can be more important than ever to accentuate to your child or step-child that having a new half brother or sister won't mean that you love them any less. Children may feel jealous of the new baby and the attention it garners from both their parent and step-parent and may start to act up both with you, and if applicable, with their other parent/family. Remember to continue to spend quality time with your child and accentuate how important they are in your family structure.
---