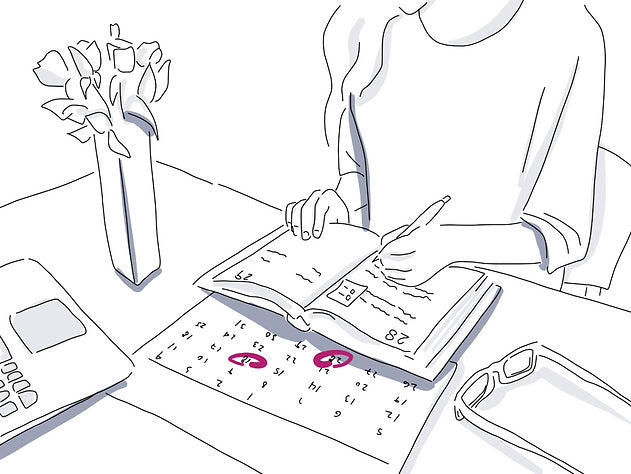 First Trimester
Confirm your pregnancy
Start with an at-home pregnancy test the week after you usually have your period. You can read more about pregnancy tests in our section 'Am I Pregnant?' on upupnaway.com.au
Look into health insurance If you don't have a health plan investigate your options, or if you do look into its coverage
Make a prenatal appointment Contact your healthcare provider and book, although your first appointment may not be for another 8 weeks or more
Consider your lifestyle Some activities may be dangerous to you and your baby now you are pregnant. It is important to look at your lifestyle choices and eliminate anything that might be harmful to you or your baby
Limit alcohol and quit smoking Smoking and alcohol increases the risk of pregnancy problems including miscarriage and premature birth
Change your diet Do your best to eat well, drink plenty of water and cut down on caffeine. Read our blogs 'Pregnancy superfoods' and 'Foods to avoid while pregnant' to learn which foods you should stock up on and which to skip
Look after your emotional wellbeing There is a lot of focus on physical preparation but it is important to prepare yourself emotionally and mentally for birth. Visit our section on mental health + wellbeing to read more Ensure your medications and beauty regimes are safe Ask your caregiver about any prescription and over-the-counter medicines you are taking and if they are safe for use during pregnancy Get plenty of rest Go to bed early if possible, you're likely to be feeling exhausted
Investigate your prenatal testing options You have choices about testing which can provide information about your baby's risk for chromosomal problems and birth defects. Visit our section on prenatal care, scans + checks to read more
Choose a caregiver Ask your doctor, friends or family if they can recommend a care provider
Learn the signs of pregnancy problems Consult your GP and check our list of symptoms that may signify problems during or after your pregnancy
Invest in some new bras and underwear Maternity garments can help your comfort levels – check out your local lingerie stores for some beautiful options!
Start a baby name list Now you can finally whip out that list you've been secretly compiling since you were 14!
Prepare a baby budget Begin to plan for your new expenses; nursery, clothing, food, nappies, etc can all add up fast Have sex Sex while pregnant is mostly safe in normal pregnancies. As your gestation progresses you may find your sex drive fluctuating between being high and low. You can read more about sex + intimacy during pregnancy on our website Talk to your partner about parenting
Get the conversation going. Chat about your upbringing, families you think 'work', the type of parents you want to be. See our articles on relationships
Start moisturising Do what you can to avoid stretch marks and keep your skin elasticated Take some bump photos Taking a series of weekly snapshots is a fun keepsake to document your growing belly. Visit our blog on pregnancy photography for some ideas
Follow your and your baby's development
Visit our weekly breakdown to see what's happening to you and your baby
Second Trimester
Begin planning financially Becoming a parent brings an increase in financial responsibilities. Read about budgeting, work and childcare in our parenting section
It's a …! Decide whether you want to know the sex of your baby. If you have an ultrasound or amniocentesis coming up you'll need to decide
Look into child birthing classes There are in-person or online classes available if classes are something you may be interested in
Revaluate your exercise regime It is important to remain active and healthy, but you may have to change your routine now that you are pregnant. You may also consider prenatal exercise classes. Visit our website for more information on exercise during pregnancy
Consider a professional labour coach Doulas are an option to assist you during labour and delivery, so start meeting some candidates now. View more about birth partners on our website
Speak to your older children If you have other children begin to prepare them for the arrival of a new sibling. Read our articles on how to ease the transition in our parenting section.
Investigate second trimester tests and visits Learn about what to expect at each visit in our second trimester breakdown
Begin to look into childcare If you will need childcare for your new baby start looking into your options now – you can learn more about the different childcare available here
Think about maternity leave Learn about your rights and responsibilities regarding your workplace in our article on work and childcare
Shop for maternity clothes You may not be showing yet but maternity clothes may begin to be more comfortable Prepare your pets Mister Whiskers can benefit from some special pre-baby preparation too.
Visit the dentist Get a check up and consider getting your teeth professionally cleaned as oral hygiene during pregnancy is important Go on a babymoon A babymoon is becoming a popular trend, as now is the perfect time to indulge in a pre-baby trip. What is a babymoon exactly? Find out in our blog
Set up your baby's nursery Prepare baby's room. Whether your baby sleeps in a bassinet, crib, or with you it is important to prepare and follow safety guidelines. Find some ideas on decorating your nursery in the home and nursery section of our website Tackle those renos
The nesting instinct may be kicking in so make the most of it and get into those home improvement projects while you still have the energy Dedicate time to your partner Remember to spend some time bonding together in the midst of all your pre-baby prep
Begin to think about your baby shower You may have ideas on the theme, guest list, food and games or drop some subtle hints to your girlfriend.
Write a letter to baby Start a blog or even an Instagram, put together a collage or a memory box of pregnancy mementos
Shortlist that ever-expanding list of baby names Start narrowing down with your partner, sometimes when you meet your little one you'll instantly know, however it can't hurt to be prepared
Prepare your bed You may need to start sleeping on your side, invest in a pregnancy pillow or consider more breathable linens
Watch that pelvic floor Start doing Kegel exercises and keep your pelvic muscles strong through pregnancy and beyond
Check your rings If pregnancy swelling is making your rings feel tight take them off now before they get stuck!
Celebrate the halfway point At week 20 you're half way through your pregnancy already!
Third Trimester
Read about baby care
Your third trimester is the time to switch from reading about pregnancy and begin reading up on baby
Learn about third trimester tests and checks Know what to expect at each of your prenatal appointments on our website
Prepare for breastfeeding If you're planning on breastfeeding your baby, learn as much as you can from our website's section on breastfeeding
Make and freeze meals When you cook start doubling your recipes and freezing half. You'll be happy to have nutritious meals at the ready for after baby arrives. You can find some delicious recipe ideas on our website https://www.upupnaway.com.au/recipes
Monitor baby's movements Keep track of baby's kicks, rolls and twitches and let your caretaker know immediately if you notice a decrease
Choose a doctor for your baby Ask your GP for a list of paediatricians or family practitioners and ask for recommendations from friends and co-workers
Consider more classes
As well as child birth classes you may want to consider classes on baby care, breastfeeding and infant CPR
Talk to your baby Your baby can hear your voice now so start talking to your little one, singing and playing music Know the stages of labour Labour and birth is divided into three phases, read all about them in the birth section of upupnaway.com.au
Create a birth plan Record your choices for pain relief, delivery positions, birth locations and feeding in your birth plan. Visit our tools section to download a birth plan you can fill out yourself
Tour your hospital or birth centre Familiarise yourself with the surroundings and features available where you'll give birth. Enquire about whether you can pre-register
Pack your hospital bag Be sure to pack plenty of essentials for yourself & baby
Make a plan for when labour starts Long before the first contractions arrive you'll want to know who to call and where to go
Begin thinking about big decisions Are you going to bank your cord blood, will you circumcise your boy? Start thinking about your choices Look out for late-pregnancy complications Be on the lookout for symptoms which should raise alarm bells and warrant a call to your caregiver. See the complications of birth on upupnaway.com.au for more information Install your baby's car seat You can't drive your baby home without a car seat so purchase and install your car seat Get a hold of late-pregnancy jitters If the unknowns are making you nervous connect with other parents and parents-to-be on our forums Learn about coping with labour pain Read up on pain relief options in our article on upupnaway.com.au
Learn about your body after birth Find out what to expect and how to get back into your pre-baby body fast
Consider pregnancy photography Celebrate your amazing pregnant belly by getting a professional portrait with you and your partner
Start lining up helpers Begin rounding up the troops to help out after baby is born
Have your house cleaned
Ensure everything is spick and span and hire a house cleaner or asking a friend or family member to help
Make a baby watch list
Decide who you'll tell when the baby arrives or when you go into labour, and how you'll spread the news
Wash baby's clothing and bedding It is advised to wash everything first that will be in contact with baby's skin to remove any irritants in the fabrics
Load up on household supplies
Start stocking up on pantry staples, toiletries, frozen food, toilet paper, shampoo, diapers and wipes
Download your copy of The Phoenix Diary
Make sure to visit the app store and download your baby diary app 'The Phoenix Diary' to help you keep track of baby's feeds, sleeps, baths, nappy changes, activities, growth and more once your little one arrives
Don't panic if you go over your due date After months of anticipation the big date finally rolls around and – nothing. It is a frustrating but common situation. Whatever the cause, you're probably tired of being pregnant, not to mention anxious. Rest assured, an overdue pregnancy won't last forever. Labor could begin at any time.
Giving baby a nudge
If you and your health care provider choose labor induction, you might be given medication to help your cervix ripen. Your health care provider might dilate your cervix by inserting into it a small tube (catheter) with an inflatable balloon on the end. Filling the balloon with saline and resting it against the inside of the cervix helps ripen the cervix. If your amniotic sac is still intact, your health care provider might break your water by creating an opening with a thin plastic hook.
Hang In There!
You're in the homestretch! Whether your health care provider suggests a wait-and-see approach or schedules an induction, stay in touch and make sure you know what to do if you think you're in labor. In the meantime, do your best to enjoy the rest of your pregnancy.
---